Maths
Vision
We believe that in providing a high-quality mathematics education children can develop the ability to reason mathematically, develop real understanding and gain a sense of enjoyment and curiosity about the subject.
Our Maths Curriculum
We follow a Teaching for Mastery Approach across the school where all children are encouraged to become mathematically observant and to think mathematically. We believe that every child can be a mathematician and have high expectations for all.
Whole class teaching, through carefully structured, coherent, small steps, help all children to build self-confidence and be successful in their learning. We aim for depth of understanding so that skills and knowledge can be applied fluently therefore teachers ensure children master the content before moving on.
Carefully planned use of representations are used to expose mathematical structures. A Concrete, Pictorial and Abstract (CPA) approach enables children to see the maths to understand it. Carefully scaffolded learning enables connections to be made and relational understanding to be mastered by all.
Paired talk is an essential part of all lessons as children are encouraged to develop their thinking and reasoning using appropriate mathematical vocabulary.
Problem solving is integrated into lessons through real life word problems and open investigations which encourage children to reason about the skills and knowledge needed and the methods of working they will apply.
Retrieval is also a key part of our learning and time is given to revisit previously taught topics to help strengthen the connections in the brain. Additional practice helps to develop fluency
Maths at Duston Eldean
Maths Policies
Rosenshine's principles linked to Teaching for Mastery
Fluency
In addition to the daily maths lesson, we also provide additional practice of key number skills through fluency sessions. These sessions help to secure with the fundamental workings of the number system, so that they are able to flexibly and efficiently apply their number skills to other areas of maths.
Rapid recall of times table facts is a key skill that children need to access a large proportion of the Year 5 and 6 curriculum. In order to develop recall of facts, a number of strategies are used including rolling numbers, where children learn to count fluently in steps of a given number. We aim for all children to have instant recall of all facts up to 12 x 12 by the end of Year 4.
Partnership with parents/carers
We welcome the opportunity to work in partnership with parents/careers to provide a supportive and encouraging experience for our pupils.
There are many essential life skills that are developed though our maths curriculum. We provide further time and opportunity to develop and practice these skills through our Maths Buzz Bingo challenges that are set 3 times a year. Children have up to 6 challenges to complete at home, with the support of an adult, to develop proficiency in these skills that will be essential in later life.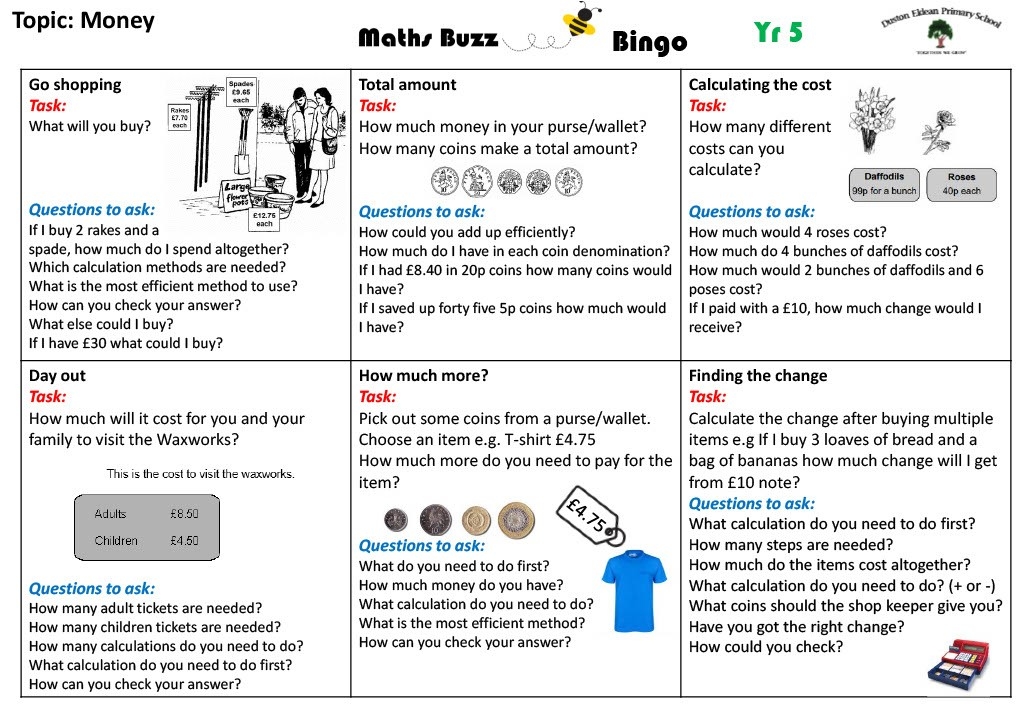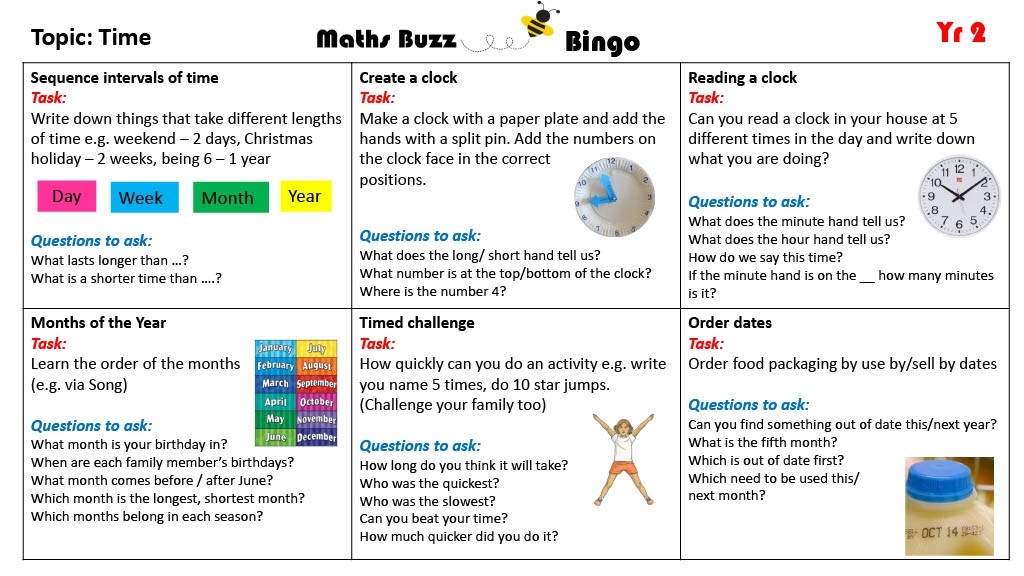 Year 2 parents were invited into school to complete a workshop with their child to develop an understanding of the mastering number skills that are being developed in school. A five-week homework challenge was then set up for parent/carers to play games at home to support the work in school aimed at developing fluency of number sense.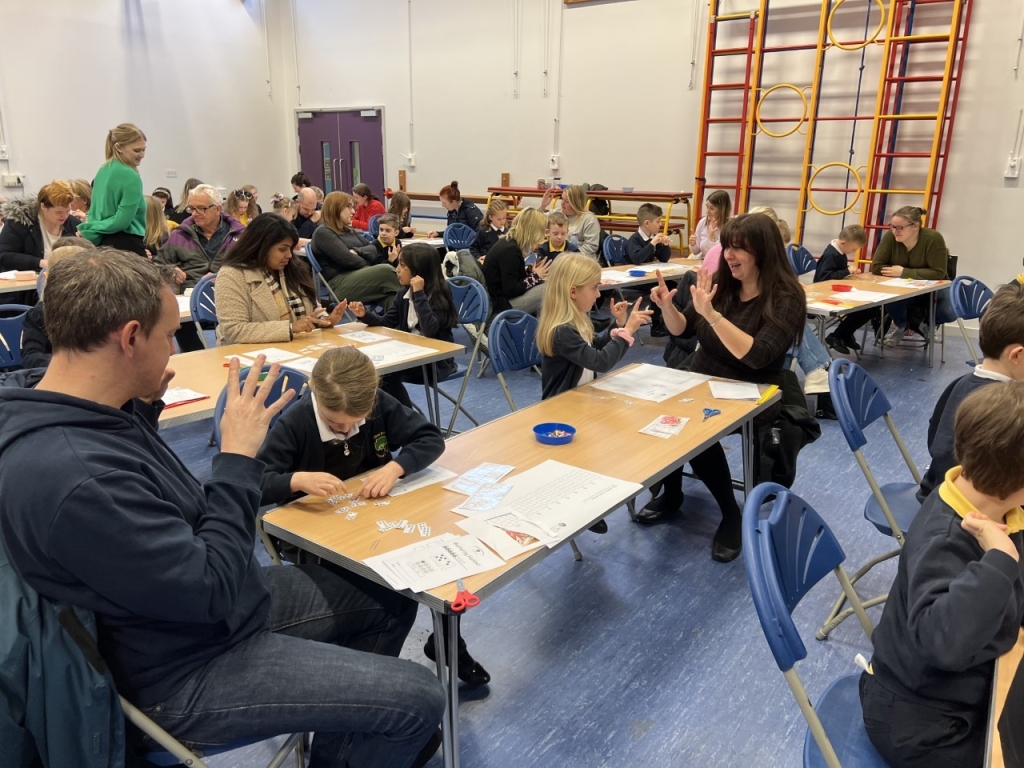 Our own experiences of maths may not have been positive in school but the way we now teach maths is to enable all children to be successful. We therefore need to be careful how we speak about maths to ensure that we develop positive attitudes in maths for our children.
Useful Websites for Parents
There are many great websites that can support children with their maths. We subscribe to Numbots for Key Stage 1 and TT Rockstars for Key Stage 2 pupils as we believe developing these number skills are essential in providing firm foundations for other maths. Each pupil has their own log in details so please ask the class teacher if you do not have these to hand.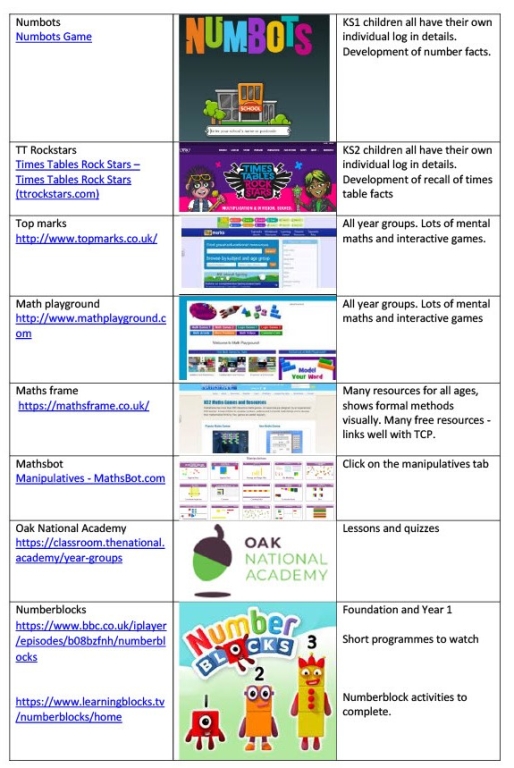 Curriculum Impact:
Our approach leads to happy, well-rounded Mathematicians, who enjoy learning, are confident mathematicians and ready for the next step in their educational journey.
| | |
| --- | --- |
| Intent | Impact |
| Children across all year groups use concrete manipulatives, pictorial and abstract representations to support their understanding of mathematical concepts and to encourage independent learners. | As a result, children develop understanding of different methods and are able to select efficient strategies to solve problems, thus increasing the number of children achieving ARE and all children make at least good progress. |
| Children work collaboratively to investigate and solve mathematical problems, including critiquing and developing each other's learning, using age-appropriate mathematical language effectively. | As a result, children reason, apply and share their knowledge to deepen their understanding through learning from each other, contributing towards children achieving ARE/ARE +. |
| All children work with the class teacher to complete guided practice questions. For those children who are working significantly above or below ARE, teachers use their professional judgement to ask these learners personalised questions and guided practice opportunities to meet their learning needs. | As a result, all children are challenged, have their learning needs met and thus make at least good progress. |
| Children recite stem sentences, which are also displayed in the classroom to support their learning. | As a result, all children remember key points of their learning by rote and apply this to their learning and thus make at least expected progress. |
| All children complete the same intelligence practice activities. The class teacher uses their professional judgement and children use their understanding of metacognition and growth mindset to move their learning on at a pace and level appropriate to their learning needs. Those children who are working at significantly below ARE, a personalised curriculum is planned and delivered. | As a result, all children's needs are met and thus meet their learning potential; children are secure in their learning which can be applied to different concepts and as a result all children are exposed to achieving ARE+ and at least good progress is made by all children. |
Our outcomes in Maths are as follows:
Key stage 1 (Year 2) attainment of the expected standard in mathematics (71%) was in line with national average in 2022.
Key stage 1 (Year 2) attainment of greater depth in mathematics (17%) was in line with national average in 2022.
In the Year 4 Multiplication Check, we had 40% of pupils achieving full marks which was significantly above national average in 2022.
Key stage 2 attainment of the expected standard (100+) in mathematics (85%) was significantly above national and in the highest 20% of all schools in 2022.
Key stage 2 attainment of the high standard (110+) in mathematics (45%) was significantly above national and in the highest 20% of all schools in 2022.
Key Stage 2 progress in mathematics (3.4) was significantly above national and in the highest 20% in 2022.